Telehealth Billing: Is Yours Correct?
Roughly 2 out of 5 Medicare beneficiaries leveraged telehealth during the first year of the COVID-19 pandemic. Due to the overwhelming increase in providers billing Medicare for telehealth services during the PHE, it was only a matter of time before a report would examine the utilization.
Why Telehealth Worries Medicare Authorities
The billing practices of some providers are raising eyebrows among regulators. The Department of Health and Human Services (HHS) Office of Inspector General (OIG) published a recent study examining an estimated 742,000 providers that billed Medicare for a telehealth service between March 2020 to February 2021.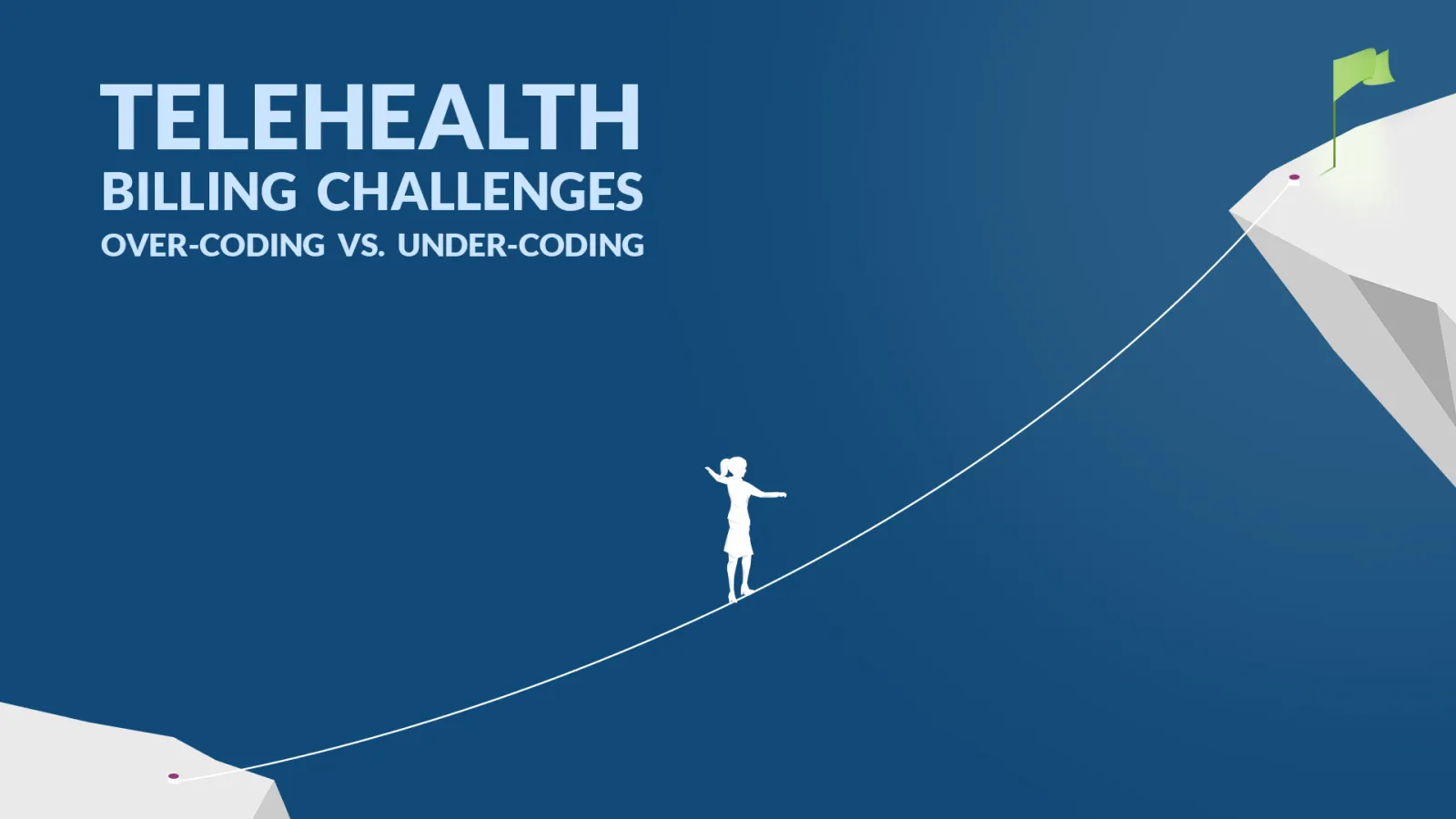 Within the study, the OIG identified 1,714 providers of telehealth services that posed a high-risk to Medicare billing during the first year of the pandemic. Those high-risk providers recieved $127.7 million in Medicare fee-for-service (FFS) payments from over 500 thousand beneficiaries billed for telehealth services, which is a potential signal for fraud, waste, and abuse. Some of the billing concerns included:
Billing for both a telehealth service and a facility fee for most visits?
Billing for telehealth services at the highest, most expensive level every time?
Billing telehealth services for a high number of days within a calendar year?
Billing both Medicare fee-for-service and a Medicare Advantage plan of the same service for a high proportion of services?
Billing a high average number of hours of telehealth services per visit?
Billing telehealth services for a high number of beneficiaries?
Billing for a telehealth service and ordering medical equipment for a high proportion of beneficiaries?
The high-risk providers represent a minuscule portion of the overall number of providers that charged Medicare during these months. However, This data shows the importance of providers billing services correctly and appropriately to protect Medicare and beneficiaries from fraud, waste, and abuse.
A related report conducted by the OIG shows similar results of an 88-fold increase in the number of Medicare beneficiaries using telehealth services during the first year of the COVID-19 pandemic - climbing to over 28 million Medicare beneficiaries in 2020 (compared to about 840,000 in 2019).
What Medicare Beneficiaries Should Expect From CMS
While the high-risk providers are a small portion of the overall number of providers billing Medicare, the study confirms the importance of robust and targeted oversight of telehealth services. It also offers insight into the importance of conducting regular and ongoing monitoring and auditing of telehealth claims. Continuous monitoring and auditing will ensure telehealth's benefits while effectively and efficiently shrinking risk. The OIG & HHS is encouraging the Centers for Medicare & Medicaid Services (CMS) to promote and execute these goals.
HHS OIG encourages CMS to aim for the following objectives:
Strengthen monitoring and targeted oversight of telehealth services.

Provide additional education to providers on appropriate billing for telehealth services.
Improve the transparency of "incident to" services when clinical staff primarily delivered the telehealth service.
Identify all telehealth companies that bill Medicare.

Follow up on the providers identified in this report.
In response to the recommendations of the OIG and HHS, CMS agreed to follow up on the providers identified in this report. However, CMS did not explicitly indicate whether it concurred with the other four recommendations.
Final Thoughts & HCP Recommendations
The best window to review and analyze your telehealth services claims is before and within the fourth quarter (from September to December depending on the amount of data your organization collected). The Compliance Risk Analyzer (CRA) service we provide makes it simple to view and analyze a year's worth of data to pinpoint the risks of audits. From there, you can discover how your organization can manage the telehealth "tightrope" by balancing two essential risks: Over-coding can be a signal of potential fraud, and under-coding means your organization is losing revenue.
Build an audit action plan based on results:
Determine whether telehealth services are medically necessary
Verify if the documentation supports what was billed
Ensure that incidents-to-services are being properly documented
Help educate providers on appropriate billing
HCP Clients can start the process by contacting your dedicated team of compliance advisors.
For more information about the Compliance Risk Analyzer (CRA), check out this quick video preview.
Not an HCP client yet?
Learn more about how the CRA process can reduce areas of risk and even save your organization money by scheduling a free online consultation.