Healthcare Compliance Software: What You Need to Know
---
JUMP TO THE SECTION
---
Healthcare is one of the most highly regulated industries. The primary cause for these ever-evolving regulations is to ensure accountability, manage risk, and ensure patient safety at all times. An organization that remains unaware of or ignores its compliance obligations will do so at its own peril. The stakes are increasing if discovered as non-compliant, enforcement agencies penalize non-compliance after failing an audit/inspection, and can result in fines or even jail time. Look at the FY 2021 numbers for health care non-compliance:
Since the answer to managing this burden is by understanding and meeting your compliance requirements, healthcare compliance software offers one of the most practical online tools available to the healthcare industry creating or maintaining an effective compliance program. Discover more about what it is and how it works to ensure that healthcare is delivered up to standards.
The Critical Purpose of Healthcare Compliance Software — What is it for?
Health care organizations leverage the compliance software to become audit-proof: Compliance software is designed for health care organizations, providers, and professionals to understand and meet their requirements. The software facilitates and manages all healthcare activities to ensure that the organization complies with the mandated regulations. Fulfilling compliance obligations means protecting your business from audit findings, penalty fines, and jail time. The compliance software might be best thought of as assurance when your organization is put under a spotlight, having procedures and policies examined.
Advancements in technology have made it possible for healthcare professionals and organizations to ensure compliance. When considering a more robust solution that offers compliance management rather than just workforce training, some professionals can create a guideline for building their compliance practices since the software is flexible and easy to scale. There are different types of this software available on the market and vary in terms of features. Therefore, you can choose and customize a compliance program that fits your organization's unique needs. Furthermore, such tools can automate the process and keep healthcare practitioners up-to-date with the ever-changing regulations.
Who Needs Access to Healthcare Compliance Software Most?
Frankly, anyone working in the healthcare industry can benefit from using compliance software. Here is a quick list of healthcare professionals and organizations that need compliance software most:
Top 10 Healthcare Professionals Best Served By Compliance Software:
Practice Administrator
Office Manager
Practice Manager / Office Manager
Chief Executive Officer (CEO)
Chief Financial Officer (CFO)
Chief Operating Officers (COO)
Executive Director
Director of Operations
HR Manager
Compliance Officer
Top 10 Healthcare Organizations That Need Compliance Software:

Orthopedics
Business Associates
Dermatology
Radiology
Family Medicine
ENT
Opthalmology
Pediatrics
OB/GYN
Pain Care
Although the above is not an exhaustive list, the fact remains that healthcare professionals, assistants, medical contractors, and organizations such as clinics, hospitals, laboratory facilities, and more can benefit from leveraging compliance software.

There are ever-changing regulations in the healthcare industry that include patient care and handling patient information. All of these are critical aspects of providing healthcare services and are highly regulated. This is why professionals and organizations have to rely on a software solution to ensure that every aspect of providing healthcare is in compliance with the existing regulations.
Uses for Compliance Software
Each software solution is different and therefore consists of various features. To give you an idea, here are some of the common uses that you can get with the implementation of this software program within the organization.

Policy and Procedure Management - This type of software is designed to be an all-in-one platform solution for professionals to manage their organizations. It is designed to ensure overall compliance with industry standards and practices unique to your industry. It helps you establish policies and procedures that are compliant with the existing regulations. This software management solution also ensures that you foster responsibility and accountability within your organization.

Training and Management Tracking - This type of software solution is one of the most critical because it guarantees that your employees can perform their jobs well. It starts with proper training and management to ensure that they are in compliance at every step of their job. As an organization, you rely on your employees to implement the protocols you have set in place. It is important that your training tools are also updated to stay in compliance with the existing regulations.

Medical Billing and Coding - There are several regulations that exist that directly impact the medical billing and coding of every organization. If your organization is non-compliant, you could be losing a ton of money or be at risk of hefty fines. The use of healthcare compliance software reduces the possibility of human error when it comes to medical billing and coding. It protects sensitive client information and combats fraud. In the bigger sense, it helps to prevent lost revenue resulting from these human errors.

Incident Management - Incident management refers not just to injuries of employees while at work, it is also designed to ensure the safety of patients. With a software solution, you can avoid critical mistakes in the healthcare setting such as misdiagnosis, medical malpractice, mix-ups of medications, and more. This software solution is also able to collect data regarding the incident for further analysis and to prevent the same incidents in the future.

Accreditation - All healthcare facilities and organizations must be properly accredited before they can operate. When you are accredited, your business is compliant with the healthcare regulations. This ensures that you have met the rigorous standards set by the governing bodies when it comes to the best healthcare practices.
Key Benefits of Healthcare Compliance Software
Not all healthcare organizations are the same. However, here are some of the potential benefits that you can get from implementing the use of this software for healthcare compliance and solutions.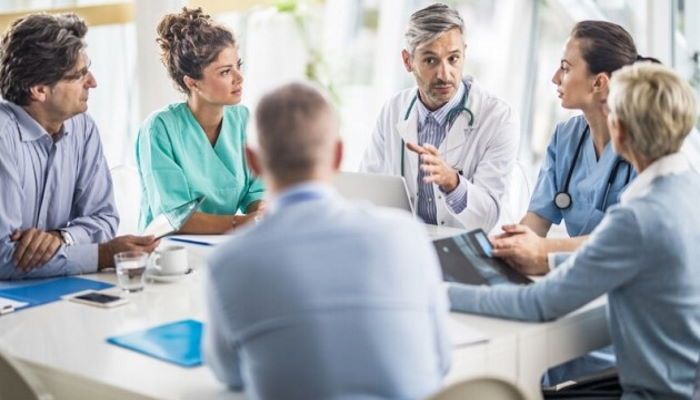 Adapts and remains flexible to the different needs and sizes of healthcare organizations.

Prevents violating any healthcare compliance regulations, potential fines, and jail time.

Minimizes the resources needed and the cost of compliance.

Save you time. Saves your workforce time.

Ensures that your staff is trained in the latest healthcare compliance protocols.

Minimizes the chances of fraud and abuse.

Provides real-time insights to healthcare services.

Improves the quality of healthcare services.
Choosing the right healthcare compliance software is essential. This solution will help your organization stay abreast of the latest regulations so that you can deliver the best quality care to your patients.
How to Choose the Right Healthcare Compliance Software
As mentioned earlier, the right software solution is critical to the success of a healthcare professional or organization. This is why you need to spend a great deal of time to evaluate your options and to have a specific set of factors for consideration. This will enable you to weigh the pros and cons of each software solution so that you can make an informed decision.

Comprehensive - Must cover both state and federal compliance regulations.

Compliance Support* - Must include access to a live compliance advisor for when you have questions (*be cautious as many software solutions do not include this kind of support)

Resources - Must provide adequate resources to help you formulate your own compliance protocols.

Documentation - Must provide adequate records of your organization's compliance records.

Cost-Effective - Must be available in various packages to match your organization's situation, workforce size, and budget.

Flexible - Must be easy to scale and flexible enough to be tailored to your unique needs.

Updates Automatically - Must help you stay abreast of the latest compliance regulations and decrease your risk of being audited.
Make sure that some, if not all, of these features are present in your chosen software program to guarantee that it can provide the solution you need for your organization.

How to Build Your Effective Compliance Program
Healthcare Compliance Pros (HCP) is a compliance consulting firm with a national reach and provides service to offices in 49 states. We offer a unified solution that combines our expertise in compliance and a software program to automate the process of becoming and remaining compliant.

We work with many different types of healthcare organizations, billing companies, MSO's, and others who trust our team to manage the burden of compliance for them. When it comes to knowing and meeting HIPAA, OSHA, Corporate Compliance, and Human Resources requirements, we have the expertise and resources to help protect your business from findings, fines, and even jail time.
HCP provides a complete compliance solution that has been designed to be audit-proof. Behind our set of tools is the active support and monitoring that will allow you to focus your day-to-day and rest assured that you are meeting compliance requirements and maintaining that status with the ever-evolving regulations.
The easiest way to get started is by scheduling a free online consultation and ask us why we offer up to $1 Million Assurance Package.

---
April 18, 2022
---