What Does Being HIPAA Compliant Really Mean?
The elephant, or perhaps the hippo in the room of the healthcare industry, is HIPAA (never "HIPPA") compliance. While treating patients with care and expertise is of utmost importance in an effective healthcare organization, HIPAA is part of the foundation a successful organization is built upon. Treating patients while protecting their personal healthcare information, along with providing access to this information, is what HIPAA is all about.
Those working in healthcare know the importance of HIPAA, but what does it mean to be HIPAA compliant?

What is HIPAA?
The acronym "HIPAA" stands for the "Health Insurance Portability and Accountability Act of 1996." This series of federal-level standards and regulations outline how organizations must lawfully use and disclose protected health information (PHI). So, what federal branch manages HIPAA? The Department of Health and Human Services (HHS) regulates HIPAA standards while the Office for Civil Rights (OCR) enforces those rules.
Suppose your organization collects, uses, and discloses PHI. In that case, you need to know the federal responsibilities to protect your patients' identities, prevent unauthorized exposure to private information, and ensure your organization can thrive. HIPAA compliance means covered entities and business associates adhere to the physical, administrative, and technical safeguards outlined in HIPAA.
You can best think of HIPAA as three kinds of patient rights with PHI: the right to privacy, security, and notification when compromised in a breach.
Three Essential Parts to Know about HIPAA
1. The HIPAA Privacy Rule — Respecting your patient's rights standards
The HIPAA Privacy Rule establishes national standards to protect patients' medical records, along with other PHI. Furthermore, the Privacy Rule requires:
Appropriate safeguards will protect personal health information's privacy and set limits and conditions on the uses and disclosures that may be made of such information without patient authorization. 
Patients' rights over their health information, including the right to examine and obtain a copy of their health records and request corrections.
2. HIPAA Security Rule — Protecting your patient's data with security standards
The HIPAA Security Rule establishes national standards to protect individuals' electronic personal health information (ePHI) that is created, received, used, or maintained by a covered entity. The Rule sets the minimum standards to safeguard electronic personal health information (ePHI). These standards must be comprehensive, technology-neutral, and scalable. HIPAA Security Standards are divided into three categories:
2.a) Administrative Safeguards — These safeguards comprise over half of the HIPAA Security requirements and are the administrative functions that should be implemented to meet security standards. Developing policies and procedures and implementing them to protect ePHI should include:
Assigning the security responsibility to a designated individual
Determining security training requirements
Creating information access management plans
Security incident procedures
Contingency plans 
2.b) Physical Safeguards — These are mechanisms required to protect electronic systems, related buildings, equipment, and the data they store from threats, unauthorized intrusion, and natural and environmental hazards. Physical safeguards may extend to outside an actual office where ePHI is accessed, such as off-site backup facilities.
2.c) Technical Safeguards — These are automated processes used to protect ePHI data and control access to it. Different technology, policies, and procedures may be used, such as:
Access control
Audit controls
Authentication controls
Encrypting or decrypting stored and/or transmitted data
3. The Breach Notification Rule — Reporting breaches when PHI is compromised
The Breach Notification Rule requires covered entities and business associates to provide notification following a breach of unsecured PHI. A breach is any unauthorized acquisition, access, use, or disclosure of Protected Health Information (PHI).
For further details about what to do regarding the notification rule, check out the recommended Breakdown on Breaches article about identifying a breach and protecting your organization.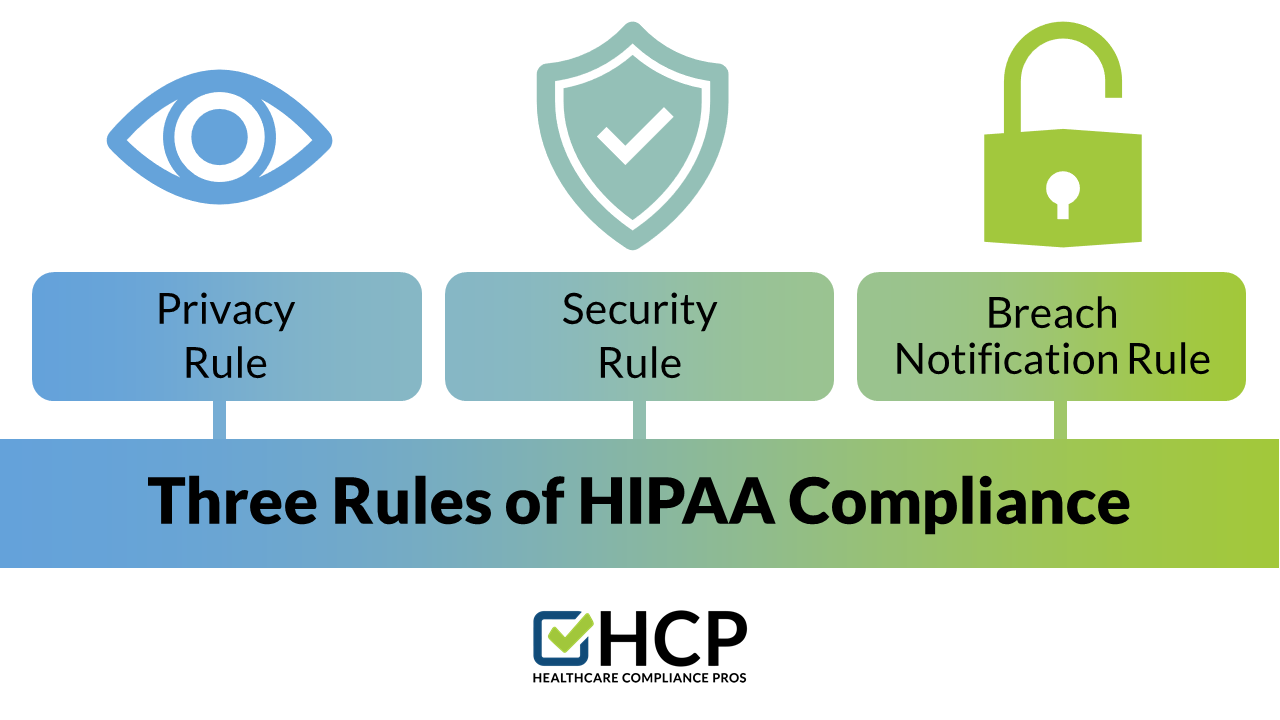 HIPAA Compliance Matters for Healthcare Success
HIPAA compliance is essential within the healthcare industry, especially with individuals sharing details of their health, personal lives, and finances when they are most vulnerable.  Furthermore, those poor organizations who aren't HIPAA compliant risk costly civil, criminal penalties, and fines. Remember, health organizations are responsible for taking the steps needed to protect PHI's confidentiality, integrity, and availability.
Having effective privacy and security measures is essential to meet all the HIPAA Rules requirements and avoid costly penalties and fines for violations. Who will be more successful? The organizations with a strong compliance plan, complete with adequate training, safeguards, policies, and procedures, will be more successful and operate more efficiently.
How to Ensure Your Organization is HIPAA Compliant
To best ensure that your organization understands and meets its HIPAA compliance standards, contact Healthcare Compliance Pros for a dedicated team of advisors to assist you.
HIPAA related resources available, include but are not limited to:
Customizable Policies & Procedures
Online and Customizable Learning Management System
Security Risk Analysis (SRA)
Business Association Management
HIPAA Incident Management
Virtual HIPAA Assessments & Checklists
Disaster Recovery Plan (DRP)
Audit Support & Protection
Got a burning HIPAA question? Save time by contacting the compliance specialists team and verifying if you are on the right track.
Not a client yet? The best way to learn about our all-in-one platform to manage your compliance program with expert support is to schedule a free online consultation.
Compliance is more interconnected than ever. That's we offer assistance in OSHA, Corporate Compliance, Human Resources, and other areas with live compliance support specialists as your helpful guide.