The medical and healthcare industry is continually changing. There are new technologies, methodologies, and regulations that make it difficult to keep up. It's not just the policies and procedures within the organization that must be improved to ensure compliance and effective delivery of services. You must also focus on the training and development of your employees so they are better equipped to provide quality patient care.
Why Learning Management Systems are Necessary for Healthcare?
A cloud-based learning management system is vital for healthcare organizations and practices for several reasons. This system provides medical employees access to training modules and courses on demand while having an abundant suite of learning tools at their disposal.

A good learning management system is essential not only because of its ability to enhance employee knowledge and expertise. It is also vital so you can establish the credibility of your services since your employees are the ones that have direct contact with your patients. They must be properly trained for the job so your practice can avoid penalties, lawsuits, etc.

Essential Components of Learning Management Systems for Healthcare
Maximize the learning of your healthcare workforce by investing in a learning management system. However, not all LMS are created the same. You must choose the ones that include the vital components that ensure you can develop an enhanced workforce and deliver improved care outcomes to patients.

Patient Care Training
Caring for patients is the main priority of every healthcare organization. Make sure your workforce is properly trained to address unique patient needs so the appropriate care is given. You will want to equip your employees with the ability to give the best medical care and also to handle every patient without discrimination.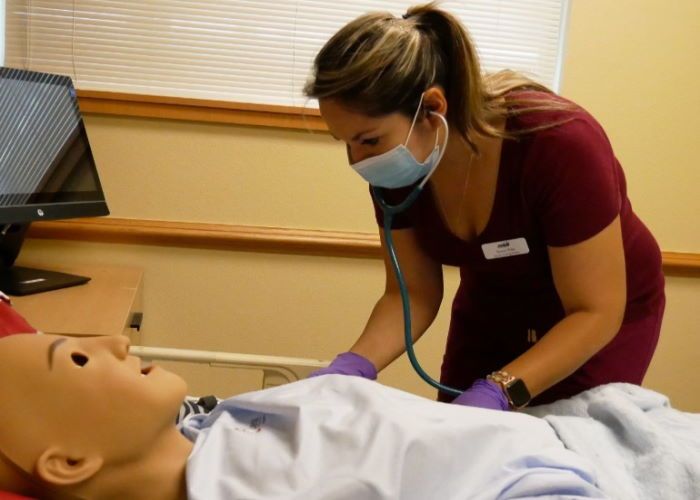 OSHA Compliance Training
The Occupational Safety & Health Administration has strict guidelines that healthcare organizations must fulfill. Aside from compliance with the OSHA standards, you want to give your employees adequate training in this area so they are aware of the steps you take to ensure their health and safety in the workplace.

HIPAA Compliance Training
Every member of your healthcare organization has a role to play in being HIPAA compliant. Therefore, your employees must also be given regular training on HIPAA compliance so everyone is accountable for protecting the private health information of patients.

Corporate Compliance Training
This type of workplace training for healthcare workers focuses on corporate governance and regulations. The goal is to avoid kick-back penalties by ensuring compliance and the use of government healthcare programs like Medicare and Medicaid.

Coding Training
Coding and documentation are an essential part of healthcare service. However, this is also one area that is potentially vulnerable to breaches in privacy rules of the HIPAA. Make sure your workforce is trained in proper maintenance of medical records, coding, and billing. Your goal is to not only provide accurate medical records to patients, but also give them the assurance that their records are safe and accessed only by authorized individuals.

Clinical Training
Clinical and laboratory environments within a healthcare facility are considered high-risk work areas. Make sure you equip your workforce with adequate training and knowledge about the best clinical practices, especially when dealing with specific health and medical products. The LMS provider can also cater to specific training course needs based on the various health conditions being treated in the facility.

Behavioral Health Training
Mental and behavioral health conditions are becoming more common nowadays. It is important that you properly train and educate your healthcare employees to address behavioral health issues. Training helps bring awareness to common and rare mental health conditions. It also ensures that your employees become advocates of general mental health among patients.

Disease Management Training
Disease management is an essential component of a learning management system for the healthcare workforce so the appropriate care is given according to the diagnosis. This training will broaden the knowledge of your employees in the treatment of diseases, as well as the safe administration of vaccines and other disease prevention methods.

Facility Management Training
This type of training course focuses on utilizing the resources and tools available in the facility for the safety of patients and staff. Specific courses available under this category include medication administration, emergency medical treatment, fall prevention, and safe patient handling and transport.

Infection Control Training
The risk of infection is one of the concerns that healthcare workers face on the job. Therefore, training your staff in the appropriate infection control measures will protect your workplace and the families of your employees. The training should offer courses designed for specific types of infections and risks.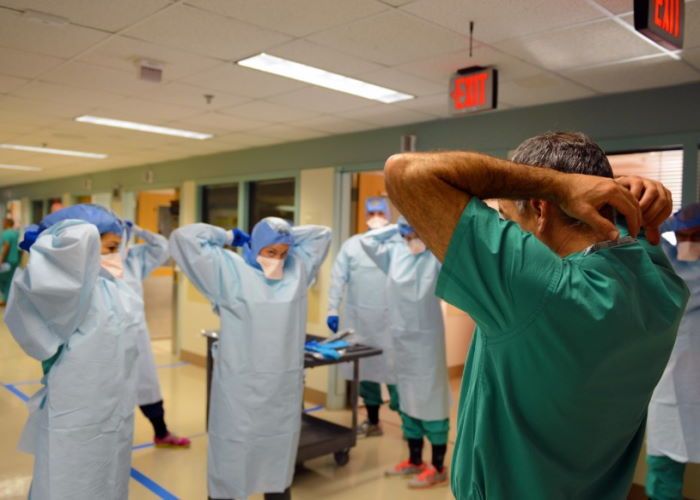 Imaging & Radiology
The use of imaging and radiology equipment is commonplace in the healthcare setting. Give your employees proper training on how to safely use the equipment and provide the most accurate diagnosis for patients. Some courses provide your employees with training on clinical decisions and basic safety.

Human Resources Training
Upskill your human resources team by providing them with timely and relevant training courses suited for their department. This training course will inform your human resource team on how to respond to relevant issues and deliver the most appropriate action suited for such events. Examples of incidents that this training will prepare them for include conflict resolution, crisis management, harassment, discrimination, and workplace violence.

Diversity & Ethics
Every patient has the right to quality and equal care, regardless of cultural and gender differences. This course will cover essential knowledge your staff must possess such as proper methodologies for patient information release, medical informed consent, and diversity & cultural competency, among others.

Bottom Line
The success of learning management systems for healthcare hinges on developing personalized learning paths for your employees. While there is no question that you must prioritize continuous learning for your employees, their ability to provide improved patient care relies on matching their learning with your organizational needs.

A modern and customizable workforce learning platform is critical in addressing problem areas so you can give superior patient care. At the same time, it helps you retain the most talented in your organization as you give them opportunities to grow.