Fall Back into Compliance this November: National Compliance & Ethics Week 2021

Every year there is a nationally recognized week in November dedicated to Corporate Compliance & Ethics, and several organizations are celebrating in a coordinated effort. Corporate Compliance & Ethics Week is officially from November 7 to 13, 2021, so Healthcare Compliance Pros is offering some shareable resources to get your organization involved too.

Play Three Games to Increase Compliance Awareness:
(Preview the print-friendly PDF by clicking a puzzle sheet above)
Ideas on How to Celebrate in Your Organization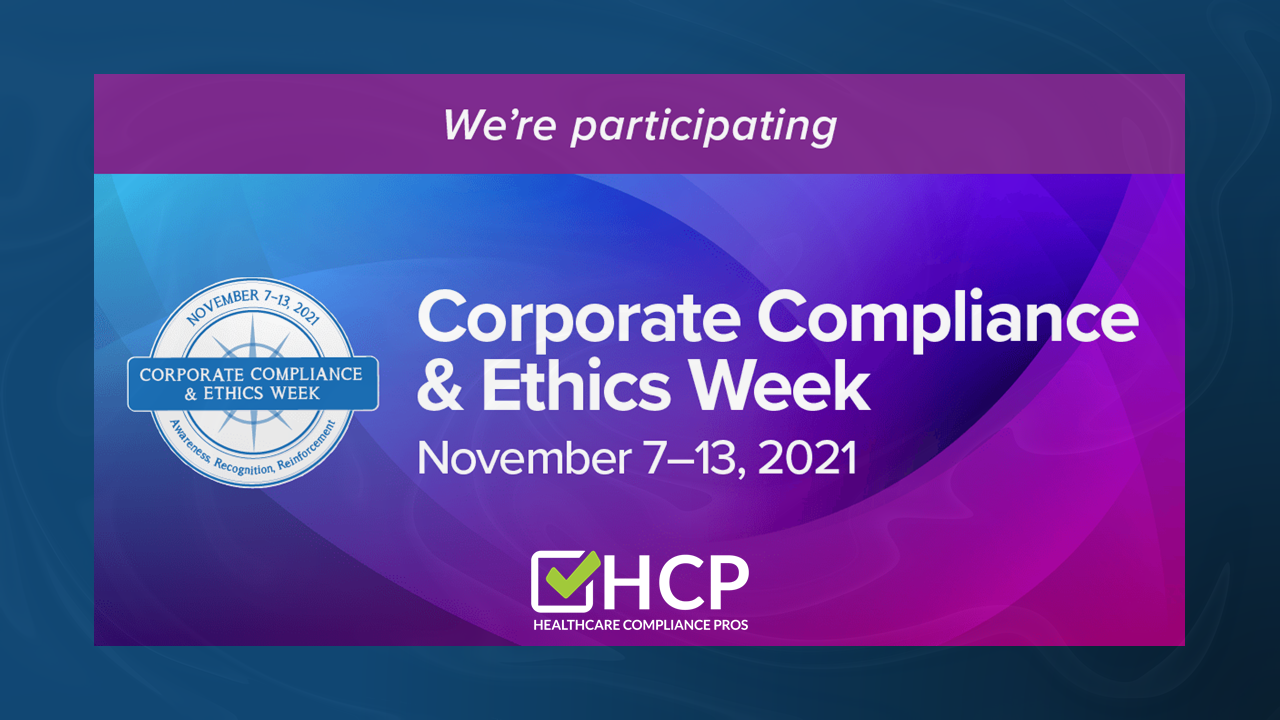 These games can be distributed to your organizations through email or printed off and handed out. These are great fun resources to refresh your employees' knowledge about their compliance skills. Consider using them in these fun ways:
Incorporate them into your monthly or weekly team meetings.

Try to have your employees race to complete the games, either individually or as a team. Afterward, review them as a group and discuss any unknown terms or questions.

Have employees turn in their completed puzzles to be entered into a drawing for a gift card, lunch, or another type of small reward.

Space out distributing them, for each week in November, have a different puzzle completed, and if everyone participates, have a "Compliance Celebration" with a luncheon or fall-related party. Remember, organizations are responsible for creating a culture of compliance in the workplace.
Seven Elements of Corporate Compliance
How effective is your compliance program at your organization? The Office of Inspector General (OIG) defined the seven elements of an effective compliance program.
To Quickly Refresh Your Memory:
Standards and Conduct

Oversight

Education and Training

Reporting

Monitoring and Auditing

Enforcement and Discipline

Response and Prevention
Healthcare Compliance Pros recommends training for all employees in all positions (regardless of permanent or temporary status; full or part-time). For example, training your front or back-office workers online. A successful compliance program provides training at the time of hire, tracks annual refreshers, and completes periodic education when a need arises. Employees need to be trained in Corporate Compliance, OSHA, HIPAA, HR, and other regulations, rules, and policies as required.
In this case, you are invited to celebrate Corporate Compliance & Ethics Week!
Achieve Peace of Mind Building Your Corporate Compliance Program
Learn more about leveraging our unified compliance solution, including online training, custom assessments, and live expert support:
Not an HCP Client yet?
Get informed and educated about corporate compliance solutions by contacting us or scheduling a free consultation. Sign up as an HCP client before Nov 30th to receive a 15% discount off your setup fee.
Already an HCP Client?
Discover how to gain up to $1 Million "HCProtection" indemnity coverage in case of an audit by reaching out to your Compliance Advisor.