Disposing of Medical Waste in 2022
COVID-19 has taken a toll on healthcare providers as efforts continue to stop the spread of this devastating virus. Adding to the burden of health care facilities is the challenge presented by the need for safe and effective management of a substantial increase in medical waste. This is due to an increased usage of personal protective equipment (PPE), testing supplies, and additional materials being classified as potentially infectious to help prevent the spread of pathogens.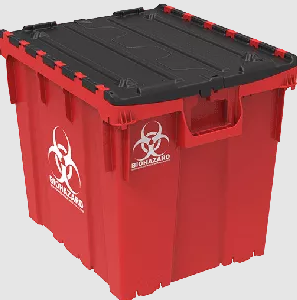 What to look for when considering a medical waste disposal provider.
Protection for Your Practice
Your medical waste disposal company should be licensed according to state regulations. Following CDC, OSHA, and DOT guidelines and best practices will help ensure the waste generated by your facility is safely transported and disposed of. For peace of mind, choose a hauler who takes full title to your waste and carries a multimillion-dollar pollution control and liability insurance policy.
Low Cost, Not Low Quality
Finding a vendor who can offer the service-level assurances and protection of a nationwide hauler, but at an affordable rate can be difficult. Privately held, debt-free, and customer-focused companies like MedPro Disposal offer average savings of 30% by ensuring clients are right-sized with the exact service they need.
Transparent Practices
Every waste hauler should provide access to waste tracking manifests that certify your biohazard waste as properly destroyed. Equally important is ensuring that the price you are quoted is the price you pay as many haulers hide administrative fees, fuel surcharges, regulatory taxes, and additional line items on their final invoice. Choosing a medical waste disposal company that offers true flat-rate billing like MedPro Disposal helps avoid these unexpected surprises.
HCP's Recommended Partner for Compliant Medical Waste Disposal Services
About MedPro Disposal
MedPro Disposal was founded to address a common complaint among healthcare providers - a lack of safe, affordable alternative solutions for medical waste disposal and compliance training. Headquartered in Illinois, the company has been providing nationwide medical waste disposal management services since 2009 and today provides service to more than 30,000 healthcare providers nationwide.
Receive a no-obligation service proposal from MedProDisposal.com or call 888-641-6131.